Regular price
Sale price
£39.95 GBP
Unit price
per
Sale
Sold out
Get rid of the negative energy and purify your space using these smudge sticks, Palo Santo Sticks and Essential Oil room spray. Transform your home in an oasis of peace and calm.
What you will get:
- Black Sage Smudge Stick 10cm and Shasta Sage Smudge Stick 10cm - Smudge sticks can be used for cleansing of the aura, for example before meditation or prayer, or they are quite often used by body workers and therapists before treatments. Smudging has long been used to connect to the spiritual realm or enhance intuition. Burning sage or smudge can lift one's mood it could also be a great ally against stress. 
- May Chang & Bergamot 100ml Essential Oil Mist - With beautifully combined warm and uplifting lemon aroma of May Chang essential oil and fresh, sweet, and citrusy Bergamot essential oil this mist will create the prefect atmosphere. May Chang essential oil has been utilised for its wonderful uplifting and relaxing properties and may be useful during times of fatigue, melancholy and anxiety. Bergamot essential oil with its fresh, bright relaxing scents is commonly used in aromatherapy and may help to elevate mood and alleviate stress. Made in England with Yorkshire Water, Witch Hazel and essential oils.
Green Tree Palo Santo Sticks 10-15 sticks - Palo Santo means holy wood and is, just as white sage, originate from the native Indians in South America. Centuries ago they already used it during ceremonies to clear the aura and to heal from negative influences. The fragrance can be described as a warm, wooden and lightly aroma with a sweet touch.
Share
View full details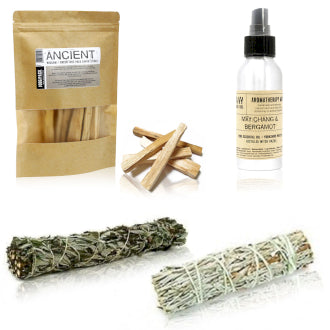 £3.99 DELIVERY ON ALL ORDERS